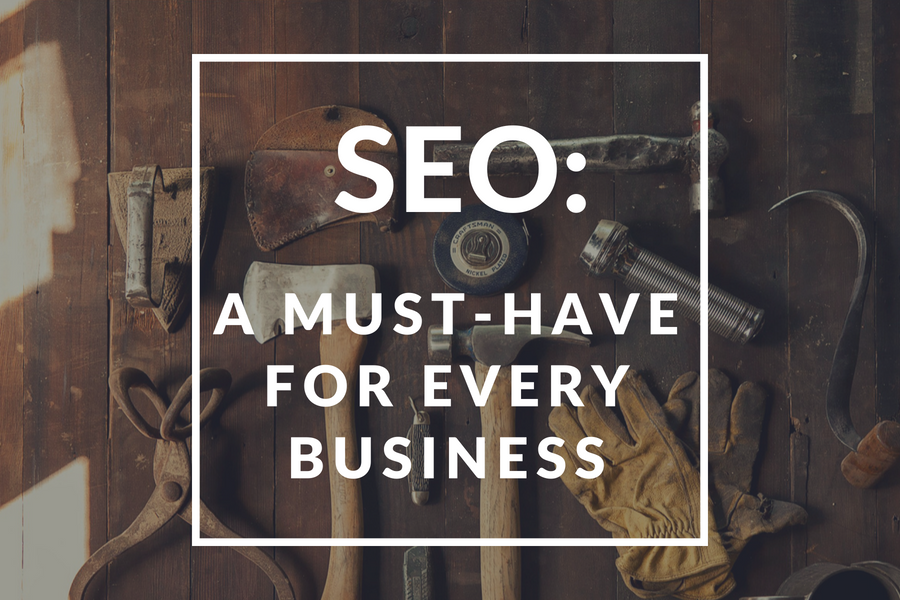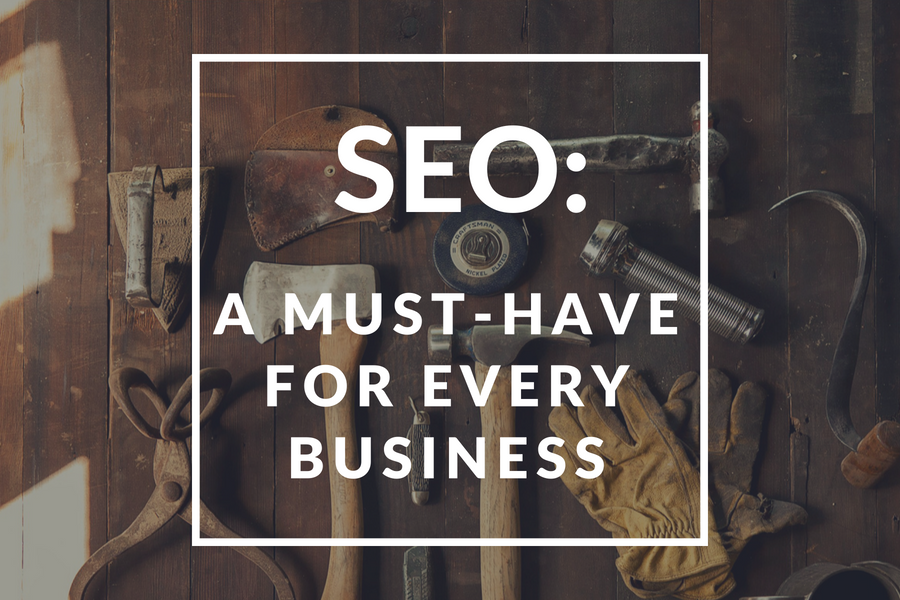 SEO: A Must-Have For Every Business
Search Engine Optimization, or SEO, like most of online marketing these days, is increasingly complicated, and beyond the grasp, expertise and resources of most business owners.  Increased awareness and interest in the benefits of SEO, hyper competition, significant advancements in SEO strategies and tactics, and ever-evolving SEO landscapes and algorithms, all combine to make this highly specialized marketing channel so much more challenging to understand, engage in and master.  However, the benefits of SEO are too great to ignore for any business, and SEO is too important for any business owner to try to master and execute alone.
Why SEO Is a Must-Have Strategy for Every Business Website
A good way to understand Search engine optimization is to imagine planning a huge holiday party to the very last festive detail for all of your family, friends and acquaintances, but then sadly neglecting to invite them all on party day.  Likewise, your business website may have the greatest design and the best products and services to boot, but if you don't show up on the search engines where people are looking for products and services like yours, it won't matter. Search engines are one of the most targeted marketing channels available and capture the lion's share of people actively looking for products, services and businesses. Did you know that:
60% of website traffic navigates to the top three listings on a search results page. (http://www.socialmediatoday.com/marketing/10-seo-statistics-every-marketer-should-know-about).
91% of PC/laptops are used to search the internet. (http://www.getelastic.com/digital-marketing-2015/)
Every month there are more than 10.3 billion Google searches, with 78% of U.S. internet users researching products and services online.
And that some consider SEO one of the best channels for driving sales and conversions:

57% of B2B marketers say SEO has the biggest impact on lead generation. (http://www.slideshare.net/NewsCred/50-best-stats-presentation)
Search is still the best channel for conversions: Conversion rates are 10 times higher from search than from social on desktops.  (http://pacedm.com/2015/02/report-finds-search-is-still-best-marketing-channel-for-conversions/)
Which is no wonder why more businesses are investing more in SEO:
46% of respondents indicated that they plan to increase spend in Organic and Paid search in the coming 12 months.  (http://www.regalix.com/by_regalix/research/reports/state-of-b2b-marketing-2015/)
Search marketing budgets are set to rise, with companies increasing spend on PPC and SEO in 2014.
What Is Search Engine Optimization?
Search engine optimization, or SEO, is a broad term covering techniques used to make your site more appealing to search engines, so they display your website for relevant search queries or keywords. Search engine optimization helps users find your website, increases your visibility and rankings on search engines so you appear prominently, and helps you become competitive with your business marketing efforts.
Google uses many factors to determine where to rank each website for each keyword, from your website's load speed to the content used on your pages. When you engage in SEO, you generally optimize 3 aspects:
On-Site Technical Optimization: The technical elements of your website so Google and Bing can easily crawl your website and index your website's pages on their search engine
On-Site Content Optimization: The content on your website so that it is authoritative and qualitative, and provides real value to your users
Off-Site Relationship-Building: The notice and trust of other authoritative websites, so you establish trust and credibility within your space
Typical SEO techniques include:
Formatting your content with the proper header tags for structure.
Cleaning up your underlying site code so you improve your loading speed.
Offering a mobile-friendly experience.
Creating content that's valuable for visitors.
The Benefits of SEO
Traffic
The biggest benefit of SEO is the potential organic traffic you can capture from search engines. Google alone has over 100 billion searches on a monthly basis. If you don't take advantage of this potential source of leads, you miss out on many prospects.
User Experience
Many of the website tweaks designed for SEO purposes also help improve the overall user experience as well. You end up with a site that performs well and is loaded up with useful information designed to gain consumer trust. You encounter a lot of crossover into tactics that you may already use as part of your existing medium business marketing campaigns, such as making content easier to read through lists and header tags, or offering in-depth guides that get many backlinks.
Brand Awareness
Even when you don't get clicks from your top rankings, you build brand awareness with these searchers. They see your brand mentions when they're looking for related terms. Over time, they have enough trust to keep you in mind when they're looking for relevant products or services, and ultimately choose you over your competitors
Hotter Prospects
SMBs may not be able to reach the top spot for highly competitive keywords, as enterprises have the resources to pour millions into retaining these rankings. However, long tail keywords, which have three or more words, are often up for grabs. In many cases, you attract more productive traffic with this tactic.Since the people searching for longer phrases are looking for very specific information, you can focus on delivering exactly what they want. You get the side benefit of improving buyer research resources, as you know that they receive accurate information when they get it directly from you.
Every time a visitor comes to your website, you have a chance to engage with them throughout their buying journey. They may sign up for your newsletter, ask sales a few questions and start researching into ways they can solve their problems.
The Consequences of Neglecting SEO
Loss of Potential
You undercut the effectiveness of your website if you don't help it move up the search engine results page. Your website is ultimately your most powerful marketing tool, but it runs the risk of being under-utilized if it's hidden in the worst part of town simply because you're not getting digital foot traffic. The potential profit generated by search traffic is taken out of the equation automatically. While you can still drive paid advertising traffic and direct visits to your website, these lack the cost-effectiveness of organic traffic.
Loss of Marketing Power
Having a comprehensive, well-rounded marketing program that leverages all of the pillars of online marketing, including paid search/PPC, social media marketing, email marketing and SEO, creates synergy and momentum for each individual pillar.  When you neglect one pillar, you lose momentum in your other pillars, which can make your investments in these areas less cost-effective as well.
Loss of Credibility
Customers may have a hard time trusting in the quality of your products or services if they never see you on the search engines or mentioned on their favorite industry websites. When you're a virtual unknown online, they may jump ship to a competitor that has a stronger online presence.
Should You Hire an SEO Agency or Do It Yourself?
Some SMBs try to perform their own SEO.  They believe that all you need for a good SEO strategy is to simply have a website with some keywords peppered in and to blog occasionally.  While blogging and having a few relevant targeted keywords on your website are some elements of SEO, they neglect to address the 3 most critical aspects of SEO that we mentioned earlier: On-Site Technical Optimization, On-Site Content Optimization, and Off-Site Relationship-Building, all of which has grown incredibly complex and continues to do so even for the most seasoned of SEO experts.
It's simply no longer feasible for the average business owner to understand all of the best practices in the SEO space and keep pace with all of the changes too.  An effective SEO strategy involves looking at your company's goals and developing a comprehensive SEO road map to meet those business goals, one that typically only a professional SEO agency can provide.
It's also simply no longer feasible for the average business owner to handle the intricacies of implementing an SEO plan on your own. Efficiently and expertly executing those tactics to support your SEO road map and strategies can often require a team of people, a bevy of resources and lots of time.  All 3 often elude even the most successful SMBs.
When it comes to SEO, hiring an SEO agency with the expertise, team and resources already in place can be your best bet.  An SEO agency dedicated to meeting your goals can mean the difference between having 1 or 2 guests attend your holiday party and having 1000 to 2000 guests enjoy your festive soiree.
Sources:
http://www.socialmediatoday.com/marketing/10-seo-statistics-every-marketer-should-know-about
http://www.getelastic.com/digital-marketing-2015/
http://pacedm.com/2015/02/report-finds-search-is-still-best-marketing-channel-for-conversions/
http://www.regalix.com/by_regalix/research/reports/state-of-b2b-marketing-2015/
Econsultancy, 2014