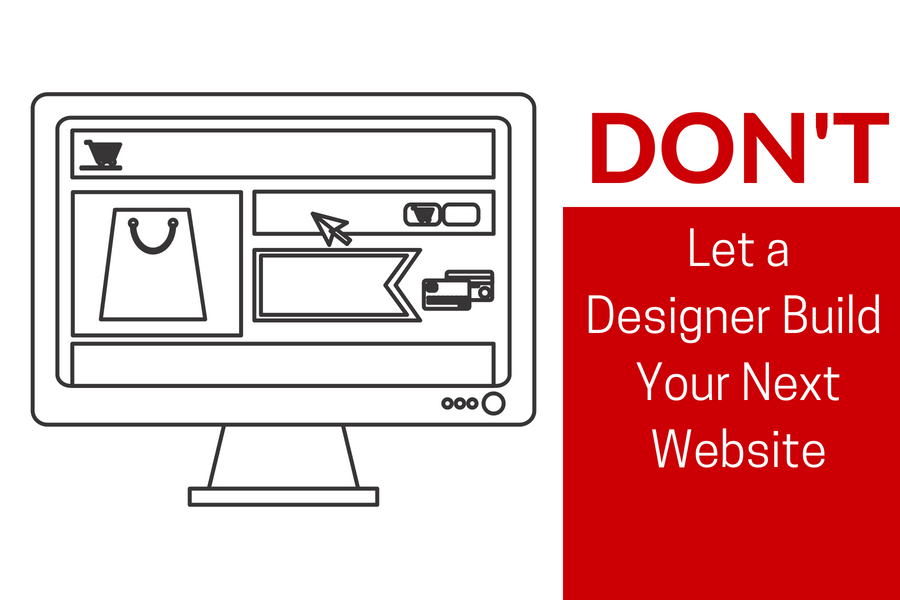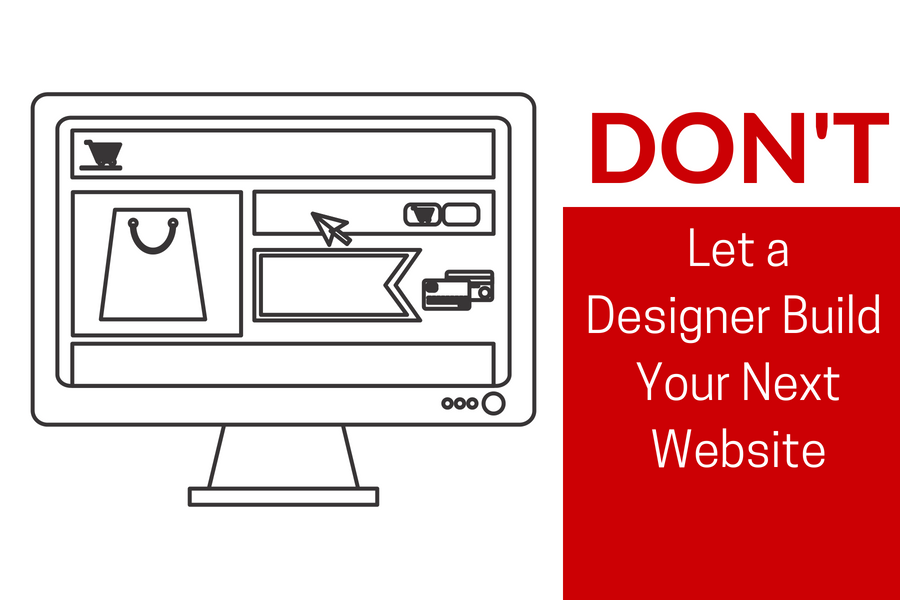 Don't Let a Designer Build Your Business Website
Have you ever walked into a physical retail store and looked around, thinking, "Wow, this place looks amazing, but where should I go first…?" That's exactly the kind of cognitive dissonance your website visitors will feel if you prioritize a beautiful design over commercial utility.  Your website can have all the elements of a beautiful design – symmetry, contrast, intelligent use of color, clarity – but if your users don't take the actions that matter most to your business, your website will be nothing more than a pretty face.
Your average website visitors will decide within the first five seconds whether they want to engage your website or abandon it altogether. The best aesthetics on your website can only work in your favor if you have crafted an equally compelling customer experience based on specific, keen and critical marketing objectives.
Successful business websites are marketing tools first, works of art second. That's why when designing and developing your business website, it's crucial you treat your site as if it was your most important sales tool – by designing it with a critical marketing and sales perspective that only your marketing arm or agency can provide.
The Marketing Perspective
A streamlined, elegant and effective website design emerges when you make it your top priority to simplify the most important priorities and actions from your customer's point of view. No matter whether you are providing information, selling products or encouraging visitors to try out your services, it is your responsibility to simplify – and facilitate – their pathway to a successful conclusion.
Too many businesses hope to establish their authority as a professional destination by wowing visitors with nice visuals. Doing so can indeed impress site visitors, but it doesn't necessarily encourage them to convert into long-term customers. To engage and motivate visitors to take those actions that are important for your business (whether that's signing up for a newsletter, calling your business, or completing a sale on your website), you must design and build your website based on solid marketing principles and perspectives.
Ultimately, the purpose of any business website is to boost revenues and build on your market share. Good design prioritizes those goals. Here are some ideas on how other companies are making that happen right now.
Start With Your Business Goals
Understanding how your website can and should fulfill key marketing and business objectives should drive all design, form, and function.  The sales/marketing perspective should drive all decisions about how your website looks, feels and functions.  This means that the features and functionality of your website should always serve a marketing or sales purpose.
Spotlight Your Preferred Audience
The Pareto Principle states that 80 percent of results normally come from 20 percent of causes. Businesses have often found this to be true in that around 80 percent of their sales come from around 20 percent of their customers. A stronger engagement with your 20 percent can make a disproportionately large impact on your bottom line. Use a marketing agency to find out who you should be marketing to and what motivates them.
Tell Stories Customers Want to Hear
Three quarters of B2B marketers rely on blogs, articles and social media to capture the imagination of and resonate with their customers, according to the Content Marketing Institute. Every piece of content, from a casual post to an in-depth case study of a customer success, should contribute to your brand's reputation and move your visitor through the sales funnel.
Make Your Website a Destination
In a survey by Buyersphere in 2015, professional buyers said that company websites are the primary tools they use to evaluate the full range of a vendor's products and services. Buyers want to buy from people, not faceless organizations. Make your site a destination that buyers want to visit for industry news, personal insights, use case applications and answers to common questions. You'll need market research to refine what questions your best customers are asking and then you'll need to provide those answers.
Use Classic Marketing Tools Like A/B Testing
Take guessing out of the equation. Find out what motivates website visitors by measuring responses to two different versions of the same page, aka A/B testing. This is especially valuable when used in association with landing pages. Landing pages are special pages on your site that can only be accessed with a link, so you can see where the site visitors originated.  A/B testing can help you improve incrementally or dramatically the effectiveness of your website in generating customer leads, sales or other important customer actions.
Remove Conversion "Friction" Points
Visitors are presented with so many choices these days and they are savvier than ever.  That's why removing any obstacles and mitigating any objections they may have to engaging with you versus your competitors can mean the difference between generating 10 sales a day versus 100 sales a day.  Make signing up or checking out easy by:
communicating the value proposition and benefits of a service
employing persuasive copy and arguments
streamlining conversion processes
facilitating and clearing pathways to conversion
highlighting those elements that boost credibility.
removing friction points
leveraging functionality that promotes user engagement and provides real value to the end user
Most Designers are Not Marketers
It's important to remember: While website designers are normally very skilled at what they do, their goal is often not to generate sales for you. They are graphic artists and coding experts first. Marketing agencies are often better able to promote conversions and marketability – to treat and build websites as automated arms of a powerful sales force, promoting a business' brand and ringing up sales while it scales its business.
Employing a marketing agency to design, build the framework of, or project manage the build of your website to promote brand building, powerful storytelling, and conversion optimization can mean the business-critical difference between having a "charming" website versus leveraging a powerful sales engine.Marketers know how to put your best foot forward, and remove any conversion obstacles for customers and any transactional friction along the way.
Your average website visitors will decide within the first five seconds whether they want to engage your website or abandon it altogether. The best aesthetics on your website can only work in your favor if you have crafted an equally compelling customer experience based on specific, keen and critical marketing objectives.
Don't settle for just beautiful. What you need is a website that does business!
Sources:
https://en.wikipedia.org/wiki/Pareto_principle
http://contentmarketinginstitute.com/2012/10/2013-b2b-content-marketing-research/
http://www.b2bsyndicate.com/Insight/Buyersphere-2015