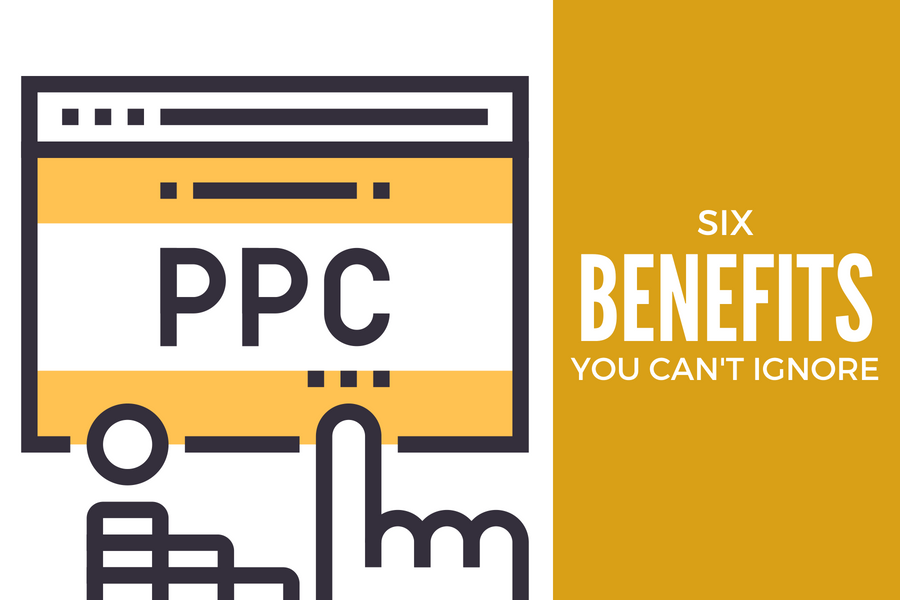 The Immediate Benefits of Paid Search Engine Marketing (PPC)
In today's especially competitive online marketplace, simply having a website isn't enough anymore. Your competitors are likely employing a whole host of online marketing strategies to capture a slice of your target market and grow their customer base. If you are not actively doing the same, your website may never be found, and your potential customers and clients may be lost to another business.
Of course, one of the oldest and certainly one of the most cost-effective online marketing methods, when done correctly, is Search Engine Marketing, otherwise known as Pay Per Click (PPC)or SEM advertising.
What Is Pay Per Click?
If you've ever used a search engine like Google or Bing to find anything on the Internet, no matter what it may be, you are likely to see several results appear at the top and sometimes in the sidebar of the search results page.  Companies pay for their advertisements to appear on these search engine results pages whenever a user searches for keywords relevant to their businesses. This marketing technique is what is referred to as Pay Per Click, or paid search engine marketing.  Typically, you are charged when someone actually clicks on your Pay Per Click ad as opposed to just seeing it; and the amount can vary depending upon the keywords you've chosen and how popular or competitive they may be.
Why Should You Use PPC?
Over 90% of Internet users report that they find what they are looking for through searches, representing one of the largest audience platforms online. As SEM represents one of the most targeted marketing channels online, it can enable businesses of any size, small to large, to reach customers exactly when and where they are searching for your specific products or services.  Indeed, for this reason alone, it can be the lynch pin of your online marketing program.
In addition to its sizable, targeted audience, PPC delivers several benefits that can help you gain an edge over your competitors and increase sales, revenue, and ROI.
Benefits of Using Pay Per Click
1. Paid Search Engine Marketing can bring traffic and sales immediately
Once you've set up a SEM campaign, you've picked the right keywords and you've written compelling SEM ads, your ads can appear online almost immediately.
And if you appear in any of the top 3 ads of a search results page, where paid PPC ads are typically displayed, your chances of driving targeted traffic to your website are greatly enhanced.  Recent statistics show that over 40 percent of Internet users click on only the top three results of a search results page.
Additionally, studies show that the chances of customers purchasing your product are increased by 50 percent when they visit your site through a PPC ad, due to the relevance of the keywords.
2. Pay Per Click can help you build your customer base and drive sales at a lower cost
While no one is discounting the cost-effectiveness of other Internet marketing methods such as SEO or email marketing, paid search engine marketing can sometimes double your investment — on average, some businesses will make $3 in revenue for every $1.60 spent on PPC platform Google AdWords.
3. Pay Per Click offers improved targeting and competitive positioning
When you appear in the results for relevant keywords – keywords that are important to your business – search engine marketing can help you reach your target market and gain market share vis a vis your competitors by improving the chances of attracting potential customers and clients to your ad, website and business first. Additionally, search engines offer additional layers of targeting to help you further refine your market, including geographic, language, income and gender targeting.
4. Paid search marketing can provide for easy testing and control
Through simple PPC tools and reporting, you can quickly see how any particular PPC ad concept you've crafted is performing in driving traffic and sales to your website, and how you might consider improving it. PPC can also be utilized as a messaging platform test bed, pitting ad concepts against each other to determine what kinds of messaging will resonate with your audience.  You can also extend that insight and learning to other marketing channels, refining and improving the effectiveness of your messaging exponentially.
5. PPC can help you gain immediate visibility and exposure for your brand
The more your ad appears, the more Internet visibility and brand exposure you achieve. As your share of voice and brand awareness grows, so too does familiarity and even trust, and the more likely it is that someone will click on your ad.  In fact, a recent Google study showed that search advertising doesn't only drives sales and conversions, it also can lift top-of-mind brand awareness by 80% (https://adwords.googleblog.com/2014/06/new-study-search-ads-lift-brand.html).
6. SEM helps you control marketing costs
You only pay for clicks at a budget you decide. You can set a maximum cost per click you are willing to pay.  And you can change your daily budget at any time. Additionally, if you choose lower-competition but equally relevant keywords,you can potentially incur lower keyword costs relative to your competitors.
While Google AdWords, Bing and other PPC platforms may promote the idea that developing and launching a PPC campaign is easy, it is much more complicated to develop and launch a PPC campaign that is effective and leverages all the features available to help you get the most out of this powerful marketing channel.
It's also getting progressively more complicated and can be time-consuming as well as labor-intensive, especially for those who have little expert knowledge of running a successful campaign.
Managing a PPC campaign without experience and expert knowledge can also prove costly if you don't know how to properly limit risk, filter for unwanted, untargeted traffic, or reduce and prevent wasted spend.  Conversely, you could be missing out on opportunities to truly scale your business and increase market share if you don't know how to leverage the search engine market and build on your campaign's successes.
Experts at a professional PPC agency can help you create a powerful PPC campaign that reaches your target market and positions your ad exactly where you want it to be — directly in front of potential customers and clients who are actively looking for you.
Sources:
http://www.ppcstatistics.com/stats/ppc-statistics-2016/
http://unbounce.com/ppc/seo-vs-ppc-infographic
https://adwords.googleblog.com/2014/06/new-study-search-ads-lift-brand.html